Kellington Primary School introduces children to mindfulness through yoga
20 Nov 23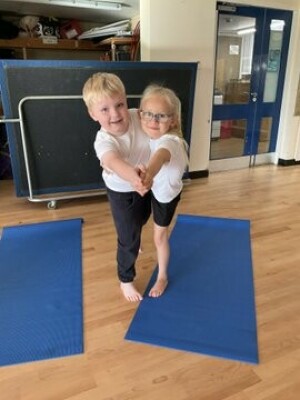 A Goole Primary School has introduced mindfulness to its day-to-day learning with weekly yoga sessions now featuring as part of its PE curriculum.
The pupils at Kellington Primary School, part of the Star Multi Academy Trust, can now look forward to learning and breathing techniques, with yoga well known for helping participants improve both their physical and mental health.
External instructor Hannah Butterill has designed the sessions, which are attended by all of the children, and which use a combination of simple yoga exercise and techniques that are linked to the school's PSHE and PE curriculum objectives.
Commenting on the classes Kellington Primary Executive Headteacher, Melanie Laurence, said: "It's really important to us that we have a range of activities for the children to participate in as part of our PHSE and PE curriculum, and that includes sports that focus on both mental and physical wellbeing.
"In this day and age we also feel it's vital to introduce our pupils to activities that they can continue to participate in as they grow, and yoga is great for that.
"Hannah is a fantastic instructor, and to date the children have already really enjoyed the sessions."
Hannah Butterill, from Hannah Maria Yoga, added: "I firmly believe that yoga is something which should be incorporated into the curriculum as it can really help children cope with the ever-changing world we live in.
"Since Covid-19 this has become a mission of mine, to aid children with their mental and physical health.  Many of the yoga exercises and techniques I use within my classes cover PSHE and P.E objectives linked to the curriculum."
Kellington Primary is a member of the Star Multi Academy Trust, a group of eleven schools across North Yorkshire working together to provide the best education support to their local communities.